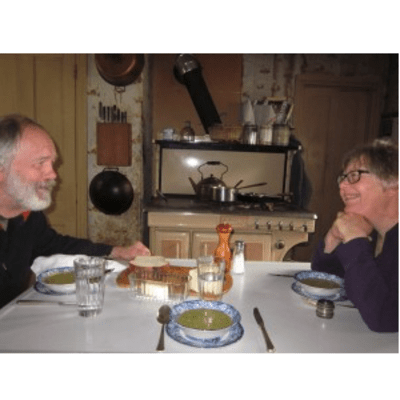 Maine Cooking with Sandy Oliver
In the cold Maine winter of 2013, I made a point of driving to Searsport to hear Sandy Oliver speak at Penobscot Marine Museum on the publication of her latest book, Maine Home Cooking: 175 Recipes from Downeast Kitchens. I love that little museum, especially its outdoor living history section, and I was charmed by Sandy. She's a soft-spoken, lifelong New Englander with a smile that lights up her whole being. She loves the history of food, particularly as it pertains to this part of the country, home cooking, gardening, and writing.
When I met Sandy, she had been thinking for some time about putting together a series of classes, taught in her home kitchen on the island of Isleboro, entitled "5 Great Things to do with _______". (Fill in the blank with whatever is fresh in her garden, can be foraged on the island, or can be provided by a local hunter.) And I had been thinking about how I could possibly organize authentic, absolutely true-to-this-place-and-time food experiences for guests of my inn. So, we've put our heads together and will be offering cooking classes that will allow my guests to take the ferry to Isleboro and spend a few hours with Sandy, cooking in her kitchen and eating together at her table!
Visit our Specials page for this year's dates!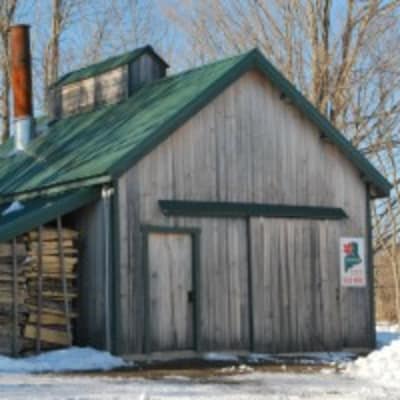 Maine Maple Sunday
Maine Maple Sunday is an annual event held on the 4th weekend in March each year to celebrate and learn about some of the best maple syrup in the world! I've loved maple syrup my whole life but until I moved to Maine in 2008, to buy the Belmont Inn, I had never tasted maple syrup made by cooking maple sap over a hot wood fire. The taste of wood smoke is in the syrup and it's absolutely wonderful! That's the syrup I use at my inn for French toast, pancakes and muffins, although syrup cooked in closed containers over a propane fire has a clean, pure maple flavor which is particularly well suited to refined preparations like Maple Crème Brulee.
On Maine Maple Sunday, the 4th Sunday in March every year, maple syrup producers all over Maine open their sugar shacks to the public and offer us the chance to learn about how maple sap is harvested and turned into maple syrup. The problem is, whether you're from Maine or "away" (a phrase Mainers use to refer to everyone not born and raised here), it can be next to impossible to figure out how to get the most out of that one day a year when the sugar shacks open their doors and offer us this unique glimpse into the lives and work of Maine farmers and their families.
Wentworth Hill Farms Sugar Shack
Enter, Field Trips for Grownups™! I've researched the nearby maple syrup farms, driven out to meet the farmers and to see their sugar shacks, and chosen a cluster of farms within easy driving distance of each other and the Belmont Inn for you to visit on Maine Maple Sunday. Combine 2 nights lodging, a wonderful 4-course gourmet dinner at the Belmont Inn on Saturday featuring Maine maple syrup used in some creative ways, and directions to a number of very different and interesting Maine maple syrup farms. Take home with you experiences that you'll never forget.