Bed & Breakfast...and Dinner!
A special offer, perfect for a family or friends' vacation: Reserve four rooms at the inn for two consecutive nights during February, March or April, and I'll cook a three-course dinner for all of you, my treat! Fill all six rooms and we'll also do a wine tasting with my favorite local wine purveyor!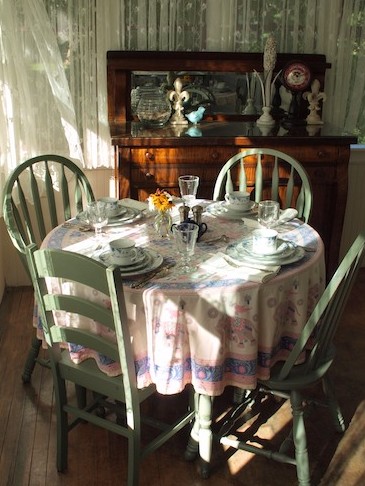 February, May, and June Mid-Week Special
Stay with us, and visit a uniquely Maine museum!
Join us in February, May or June for two nights mid-week and receive your choice of 2 tickets to either the Farnsworth Art Museum or the Owls Head Transportation Museum, both very fine regional museums.
2 nights mid-week lodging in the room of your choice.
2 complimentary tickets to the Farnsworth Art Museum or the Owls Head Transportation Museum.
A gourmet, cooked-from-scratch breakfast each morning.
Priced beginning at $378, depending on room choice (double occupancy; exclusive of tax and gratuity). Prices vary by season.
Be sure to mention the special when making your reservation!
Add a third night mid-week and also receive a $15 gift certificate to the Belmont Inn's Gift Shop!
Land and Sea Vacation Package
We are pleased to offer this special Land and Sea vacation package in partnership with the Maine Windjammer Association!
Before or after your sailing adventure, explore the natural beauty of Camden with a 2 night land package priced at just $459, double occupancy, plus tax.
* 2 consecutive nights accommodations in a queen room with private bath at the Belmont Inn
* A full breakfast each day and full use of the Belmont Inn's generous amenities.
* A gourmet picnic lunch with lobster rolls and other local goodies to enjoy while exploring miles of well-groomed trails offering excellent hiking and spectacular coastline views.
Before or after your stay, have the sailing adventure of a lifetime with a Windjammer Cruise Package. Help sail the ship or just sit back and enjoy the ever-changing scenery!
* 2 to 6 day windjammer cruise aboard one of 8 vessels departing from Camden or Rockland.
* Cozy accommodations, abundant wildlife, and plenty of time to go ashore to explore the islands and fishing villages.
* All shipboard meals, activities and a lobster feast included.
To book the cruise portion of your trip visit the Maine Windjammer Association at www.sailmainecoast.com or request sailing schedules by calling (800) 807-WIND.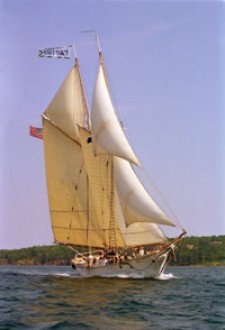 Salt Water Farm & Belmont Inn Package Deal!
Stay at the Belmont Inn and take a day- or week-long cooking class at local Salt Water Farm, "a cooking school for home cooks," where they "emphasize resourcefulness in the kitchen and teach how to cook instinctually, with less of a dependency on recipes, and a readiness to use the day's harvest." More information about the school is available here: www.saltwaterfarm.com.
Take advantage of our partnership with Salt Water Farm for this great package deal:
10% off your choice of available rooms at the Belmont Inn, 2 night minimum stay.
10% off Salt Water Farm cooking class or workshop (check calendar for availability).
Call us for more information, or to make your reservation! Classes are filling up, so book soon!
Package Details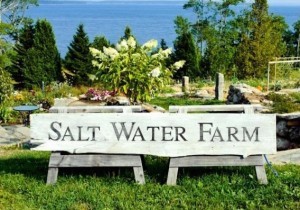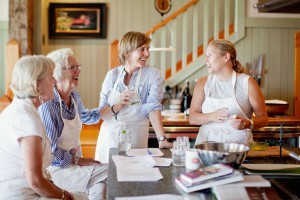 Photo credits: Kristin Teig
Maine Cooking with Sandy Oliver!
Our cooking classes with food historian and Maine cookbook author Sandy Oliver have been a huge success! Come join her in her kitchen on the island of Islesboro as she shares her uniquely Maine recipes and experiences in these fun, interactive classes.
Participants can either join in for a hands-on experience, or sit back and cheer on their comrades as Sandy shares her uniquely Maine recipes and tales of kitchen lore and island life.
Stay tuned for 2018 dates!