Things to Do
Throughout the Year
Our 5,000 miles of coastline offer one beautiful harbor after another with countless breathtaking views of Maine's many islands and of the open ocean beyond. Inland, the natural beauty continues with pine and birch forests, rivers and lakes, winding country roads and numerous state parks.
Camden, located right on Maine's gorgeous coast, is halfway between Portland and Bar Harbor/Acadia National Park. It is an ideal location from which to plan a trip that includes time to explore the local attractions and to also take some wonderful day trips. Stay for a few days, unpack your bags once, and experience much that Maine has to offer.
Because the Belmont Inn is right in the heart of Camden village, it's possible to leave your car at the inn and not get in it again until you're leaving Camden. From the inn it's an easy walk to all of Camden's unique shops and restaurants, parks and galleries, and sparkling harbor—voted "Prettiest Harbor in Maine" in 2010 by readers of Down East Magazine. And from the harbor you can sail aboard an historic schooner, take a harbor and coast tour on a lobster boat, or go on a group kayak tour around Curtis Island Lighthouse—novices and older kids welcome and safe!
On one of your days here you could hike or picnic on Mt. Battie, one of the mountains that meet the sea just behind the village of Camden in Camden Hills State Park. And the Coastal Mountains Land Trust would like you to know about their 23 miles of beautiful trails that range from easy to strenuous and offer woodland and water views. Access to the preserves is free and open to the public (even though you will see loads of "Private Property" and "No Trespassing" signs on your way to Fernald Neck Preserve don't be put off, the road to the preserve and the preserve itself really are open to the public). Click here to go to the Land Trust website, where you will find their maps and the very helpful "Take-A-Hike" brochure.
Like to swim or to just lay on a beach and catch some rays? Pretty Laite Beach on Camden Harbor is a five minute walk from the inn and the (warm!) Megunticook River at Shirt Tail Point—my favorite swimming hole—is just a short drive. The inn stocks a supply of beach towels and chairs. All you have to do is ask!
Then there are all the possibilities for day trips. Camden is 1.5 hours south of Bar Harbor/Acadia National Park and 45 minutes north of Boothbay Harbor, another popular coastal village, with its nearby Pemaquid Point Lighthouse and Coastal Maine Botanical Gardens. It's also only 1.5 hours (south) to Freeport and shopping mecca L.L. Bean. In between, in every direction including east (islands!), there are charming places not to be missed. Must sees include Belfast, Damariscotta, Castine, Blue Hill, Port Clyde, Wiscasset and Monhegan (where painters in the tradition of the French Impressionists come to catch the light).
Maine really does have it all! First-class art museums, restaurants and lodging; great natural beauty; interesting and unique shopping; a strong sense of the early history of this country; country fairs and small town festivals; antiques shops, co-ops and fairs galore; outdoor sports and recreation year round. Visit us once and you'll be back for more!
For an event calendar detailing local happenings, visit www.mainedreamvacation.com/area-events.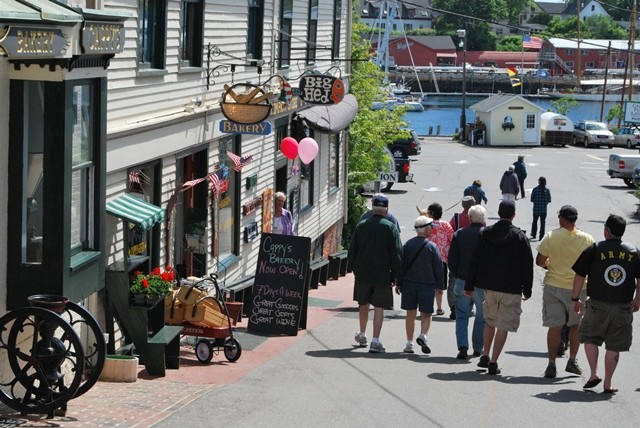 Camden Village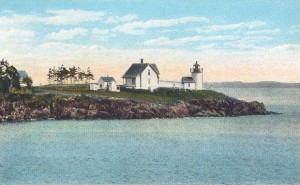 Curtis Island Lighthouse, Camden, ME
(postcard, circa 1920)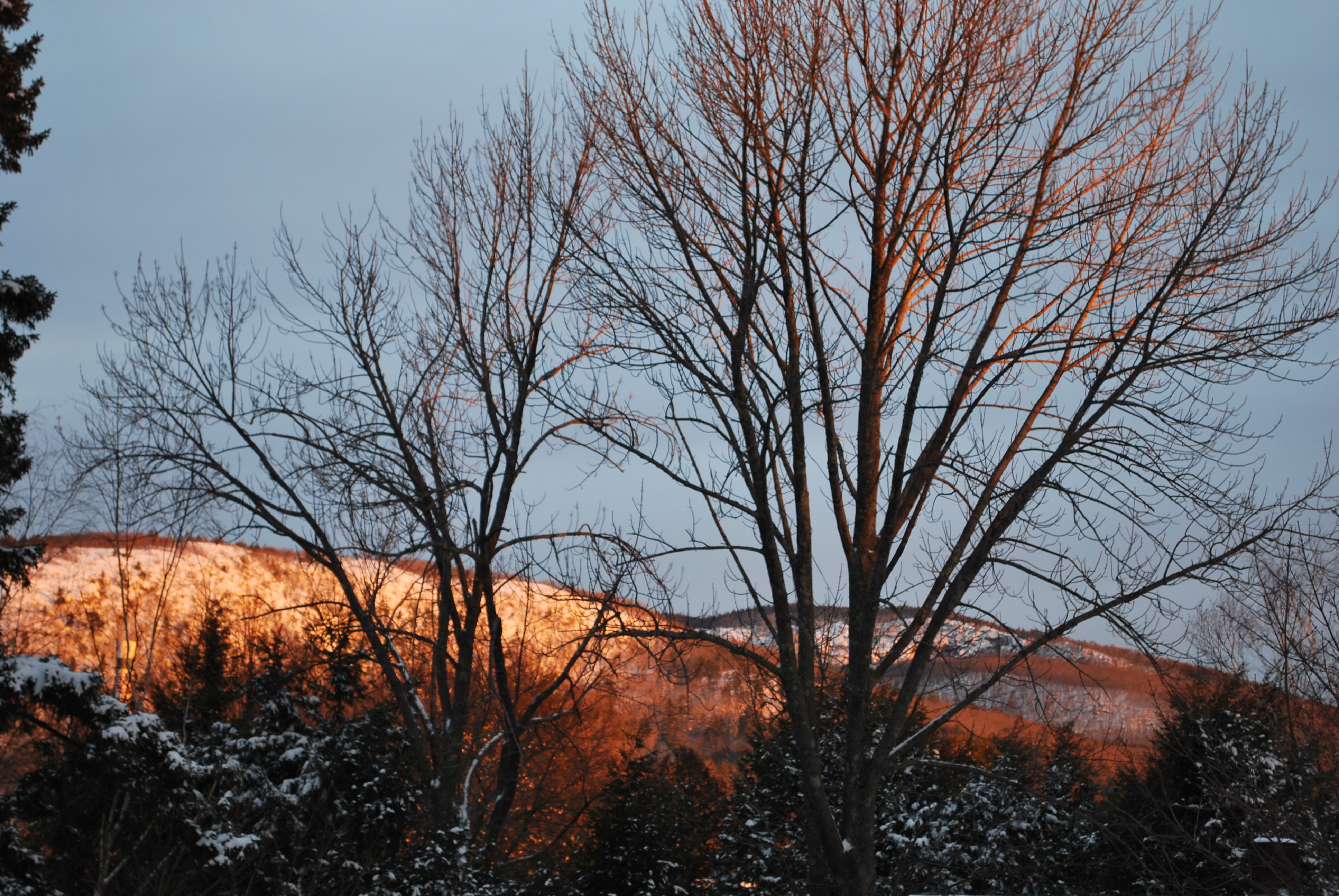 Mt. Battie at Dawn, Camden Hills State Park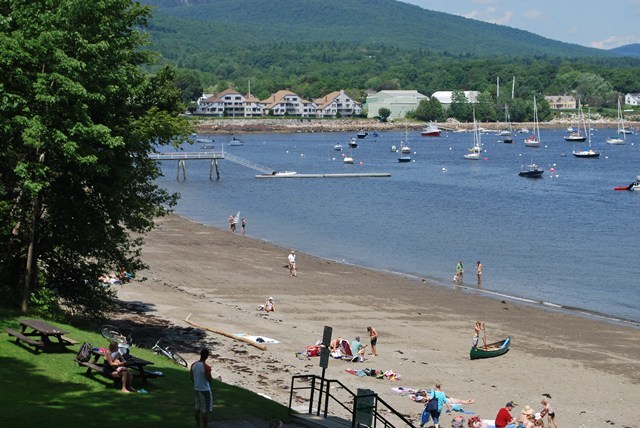 Laite Beach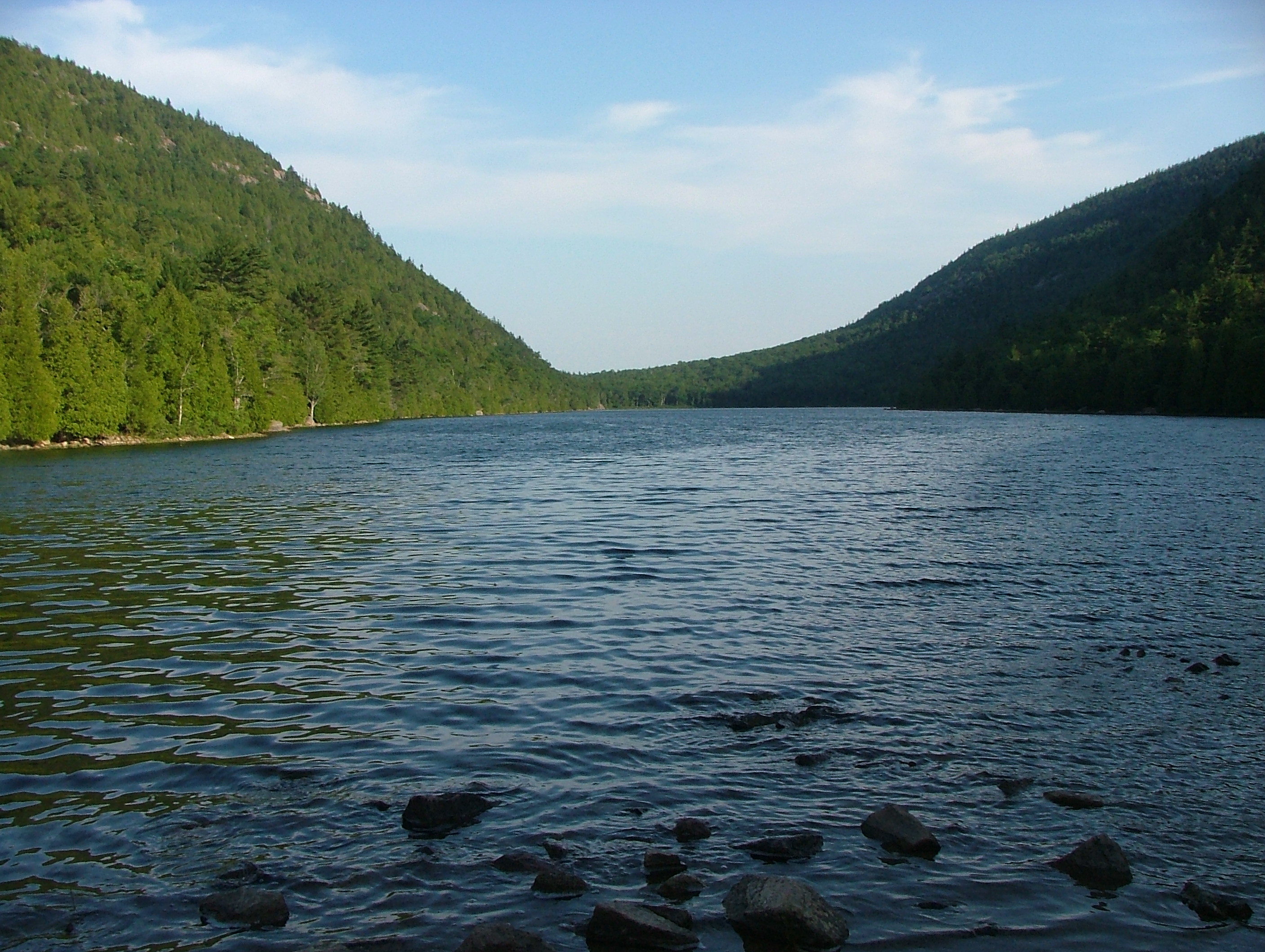 Bubble Pond, Acadia National Park